Child Development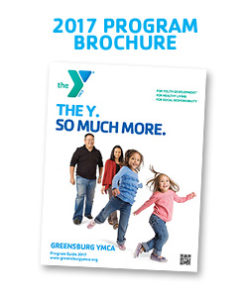 Thank you for your interest in Child Development. Please click on the brochure to download a PDF file that can be printed or is available at our Welcome Center.

Throughout these web pages you will find our program offerings for children six weeks of age through age five in our Early Childhood Learning Center as well as for grade school children with our Before & After School Enrichment program. We are blessed to have passionate and experienced staff that focuses on the development of our participants. If you would like more information on any of our Child Development program please contact Jennifer D'Angelo, Child Care Director at j.dangelo@gbgymca.org or 724-834-0150. ext. 151.
Child Care Staff
All child care staff are qualified and trained in Child Development. Staff must possess FBI, criminal history and child abuse clearances and their performance is evaluated periodically. All staff are provided ongoing training opportunities through the YMCA and other agencies to stimulate continued growth and education in the child development field. Staff are also required to obtain CPR, First Aid, Fire Safety, Water Safety and Child Abuse Prevention training on a yearly basis.
Child Care Testimonials
Nicole, a parent of a child enrolled in the Early Childhood Learning Center
"I wanted to take a moment to express how extremely happy we are at the Y. I feel it's important to pass along positive experiences and feedback, and this past Friday was a prime example of what makes us so happy! When I went to pick my daughter up she was sitting, playing with one of the teacher and both of them looked so happy. The teacher said, "I had so much fun playing with you today!" and I could tell that she honestly meant it. My daughter ran to give her not one but TWO huge hugs (I'm talking running , leaping, open arm hugs) before we left with the biggest smile on her face, and my heart about burst out of my chest. This is such a milestone for us, such a marked difference from our previous daycare experience. I'm so thrilled to see her forming bonds with her teachers (they are ALL so wonderful!), and we are so blessed to have teachers who show they really care for our child each day.
Every day she wakes up asking to go to school, and she often chooses to thank God for her new school during bedtime prayers. I hope you know what an impact you are all making each day. It's a tough job you all have, and important to know you are all appreciated. Thank you!"
Michelle, parent of an Adventure Camp child
"This was my son's first year and he will definitely be back next year along with his brother! I felt good knowing my child was safe, in good hands and having a great time. The field trips were wonderful; as a single mom I struggle and want to be able to do a lot for my boys, but they got the chance to experience places I have wanted to take them and cannot, for that I am genuinely appreciative. Thank you to all the staff for a job well done—I am happy my son and I had this experience. Although this was our first time at camp, it will not be our last. We look forward to many more years with the Y family!"
Amy, parent of a child enrolled in the Early Childhood Learning Center
I researched and visited many day care facilities in the area and found the Greensburg Y met the needs of my children…I am pleased to say the ECLC is far above any other facility. The entire ECLC staff is remarkable. They treat my son as if he was one of their own. As a working mom, this gives me comfort.
I commend the entire staff of the ECLC. The work they do is not easy, and they do it with such professionalism and compassion.
Theresa, parent of a child enrolled in our Before & After School Enrichment program
This program is a huge blessing for my boy, who attends both mornings and after school. The staff counselors are like family to him…He even gets help with his homework.
Inclement Weather Information
Greensburg YMCA Inclement Weather Policy (PDF)
FINANCIAL ASSISTANCE
The Greensburg YMCA strives to never turn anyone away due to the inability to pay. With that in mind we will accept two forms of assistance in defraying the costs of membership, programs, and childcare. One way is through the YMCA Annual Support Campaign. The YMCA is able to grant scholarships to families in need due to the generosity of local businesses and individuals who donate monies to the campaign. We encourage those who may not be able to afford camp services on their own to complete a Financial Assistance Application and submit it to the Welcome Center of the YMCA. Please allow up to four weeks for processing. Additionally, our child care programs including the Early Childhood Learning Center (ECLC), Before and After School Enrichment (BASE), and our Camps (Adventure and Sports) accept payment from Child Care Information Services (CCIS). Families should contact CCIS of Westmoreland County to inquire if they are qualified (724-836-4580).