Gymnastics
TO BETTER SERVE OUR MEMBERS WE ARE ASKING FOR YOUR HELP BY COMPLETING OUR GYMNASTICS SURVEY. TO OPEN THE SURVEY, CLICK ON THE LINK PROVIDED. PLEASE REMEMBER TO  INCLUDE YOUR EMAIL AT THE END OF THE SURVEY IF YOU WOULD LIKE US TO CONTACT YOU!
FROM THE GYMNASTICS DEPARTMENT
We are extremely fortunate to have a separate facility for gymnastics, allowing us to keep equipment set up year round. Jennifer Jubec, Gymnastics Coordinator and Kari Harkins, Head Coach, bring tremendous knowledge and expertise to our gymnastic program here at the YMCA. Please review the descriptions for our youth lessons and gym team.
For additional information please contact:
Gymnastics Coordinator Jennifer Jubec for gymnastic classes  at j.jubec@gbgymca.org  or 724 834-1367.
Greensburg YMCA Aerials Head Coach Kari Harkins  for gymnastics team at harkinsgbgymca@yahoo.com or 724 834-1367.
Senior Program Director, Drake D'Angelo, 724-834-0150 x 131 , d.dangelo@gbgymca.org
Directions to Armory (Annex Building)
Gymnastics Classes
All classes are COED. For more information or to sign up contact Jen Jubec, Gymnastic Coordinator at 724-834-1367 or email j.jubec@gbgymca.org
Parent-Tot Gymnastics (45 minute class)
Children ages 18 months to 2 years old, along with their parent, will explore activities that include gymnastics, loco-motor activities and socialization.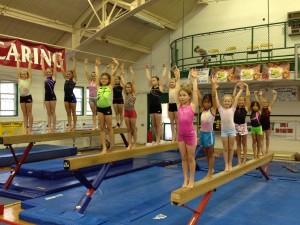 Pre School Gym (45 minute class)
This structured gymnastics program can be taken by girls or boys, ages 3, 4 & 5 years old. This class gets kids started with floor skill progressions, balance beam, vault, trampoline and other basic gymnastic skills.
Gym Gems (1 hour class)
This class is for children ages 6 & 7 years old. All equipment will be utilized.

All Events Gym (1 hour class)
This class is for children ages 8 years old and up, beginner through advanced.  All equipment will be utilized to help develop and practice gymnastics skills.
Tumbling Classes
Ideal for cheerleaders!
Tumbling 1, 2, & 3

Emphasis is on developing tumbling skills and techniques. This class is for children ages 7 and older.
Tumbling 1 & 2:
Beginner & Intermediate
(1 hour class)
Tumbling 3: Advanced (1 hour class)
Must have a Round Off Back Handspring to be placed in this class.
2015 Session Dates
Session 3       January 5 – March 1
Session 4       March 2 – April 26
Session 5        April 27 – June 21
Summer 1       (9 weeks) June 22 – August 23
Summer 2       (4 weeks) June 22 – July 19
Summer 3       (5 weeks) July 20 – August 23
Session 1        August 31 – October 25
Session 2        October 26 – December 20
8 WEEK SESSION PRICING FOR CLASSES ABOVE:
Member
Partial-Member
8 Week
$93.00
$186.00
Sibling Discount
2nd Child (10%)
$83.70
$167.40
3rd Child (25%)
$69.75
$139.50
Gymnastics Class Schedule
| CLASS | AGE | TUESDAY | WEDNESDAY | THURSDAY |
| --- | --- | --- | --- | --- |
| Parent-Tot | 18 mths - 2 yrs | 6:15-7:00 PM | | |
| Pre School Gym | 3-5 yrs | 5:30-6:15 PM | 6:00-6:45 PM | |
| Gym Gems | 6 yrs and up | 6:30-7:30 PM | | |
| All Events Gym | 8 yrs and up | 7:30-8:30 PM | 5:00-6:00 PM | |
| Tumbling 1 & 2 | 7 yrs and up | 5:30-6:30 PM | | |
| Tumbling 3 | 7 yrs and up | | | 5:00-6:00 PM |
Gymnastics Team Information
Gymnastics Team
Class participants who have attained required skill levels will be invited to join the YMCA Aerials Gymnastics Team.  The competitive team is by invitation only.  Practices for levels 2-9 are held during the week and Saturdays, year around, with meets held on weekends. See practice schedule above.
Participants must have a Greensburg YMCA membership to be on the competitive team. Youth or family memberships are available.  The team competes every year at the state and national level.
Contact Coach Kari Harkins or Lori Mertz at 724-834-1367 for more information about joining the team.
TEAM PRACTICE SCHEDULE
September – May
All team members must be a YMCA member in good standing.
RATES
• All Aerial team members are required to be a member of our Y in good standing
• Level 2 $75 monthly
• Level 3-9 $110 monthly
COMPETITIVE TEAM LEVELS
The Greensburg YMCA has competitive opportunities for gymnasts that have reached the required skill level have been invited to participate on our Aerial Team. Every 8 years USA Gymnastics modifies the Women's Junior Olympic program; 2013 is the start of new routines. Each compulsory level will have new and different routines and music.
AcroCheer & Dance Class
This is a cross over class that integrates acrobatics, cheer, and dance. These classes will teach flexibility, balance, and strength. Cheerleading basics will include cheer motions, jumps, stunts, cheers & chants. 8 count dance routines will be taught and intermixed with acrobatics and cheer.
The program is COED for ages 4-12.
Proper gym attire and athletic shoes required.
(clean indoor use sneakers for practice)
COME TRY A FREE CLASS!
Armory (Annex) Building
308 N. Pennsylvania Ave
MONDAYS

April 27-June 15
Level 1 4:30-5:15 (ages 4-6)
Level 2 5:15-6:15 (age 7-12)
8 week session
Members-$93
Non-Members-$186
Gymnastics and Acrocheer Registration form Spring 2 session 2015
For more information on cheerleading call 724-834-0150 or Email contact coachjessica5@gmail.com
FINANCIAL ASSISTANCE
The Greensburg YMCA strives to never turn any child away due to the families inability to pay for programming. With that in mind we will accept two forms of assistance in defraying the costs of camp. One way is through the YMCA Annual Support Campaign. The YMCA is able to grant scholarships to families in need due to the generosity of local businesses and individuals who donate monies to the campaign.  We encourage those who may not be able to afford camp services on their own to complete a Financial Assistance Application and submit it to the Welcome Center of the YMCA. Please allow up to four weeks for processing.  Additionally both Adventure Camp and Sports Camp accept payment from Child Care Information Services (CCIS).  Families should contact CCIS of Westmoreland County to inquire if they are qualified (724-836-4580).
Financial Assistance Cover Letter & Application 2015.pdf