Member Spotlight
MICHAEL STEWART II
The Honorable Mike Stewart II wishes deal-brokering was always this easy while presiding over family court in Westmoreland County.
When Mike told his wife, Samantha, last October that he wanted to run a marathon, she was not happy. She made that clear when she responded, "Well, I want to go to Paris."
Next week Mike and Samantha will take a vacation that is rooted in marital compromise. Mike is running in the inaugural Brooklyn Marathon on Sunday. The next day, he and Samantha are boarding a flight for Paris.
We recently caught up with Mike, who is a proud graduate of Pitt Law School, Penn State University, and the YMCA Tots Basketball program. The Court of Common Pleas judge talked about how training for a marathon is a metaphor for life, his connection to the YMCA, and how that connection goes far beyond preparing him for his first marathon.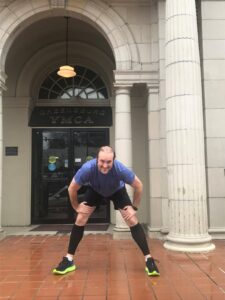 Q: Why did you want to run a marathon?
A: "A marathon is the ultimate endurance race and that appealed to me as a competitor. I'll be 40 in July so I'm not getting any younger so I figured this is the time to do it. I really didn't think about doing a marathon until the pandemic. The gyms were closed so I started running. There was a group I got involved with and started reading books about running. Just became fascinated with different training methods, the evolution of running. I just start running further and further and running a marathon just got into my mind. This is probably a couple of years in the making."
Q: With work and raising two young sons with Samantha, how challenging was it to make the time to train for a marathon?
A: "I paid someone to put together a calendar for me so I know what I have to do every day a month in advance. Even if you're tired you have to get done what is on the calendar. There are some days when it is 8, 10 miles runs and you're struggling the whole time. You just do it. My first 18-mile run – and I had run 16 to 17 miles the week before — from 14 to 18 miles it was just an absolute struggle. I hit a wall and did everything I could to keep moving the last two miles. The next week, I ran 18 miles with no problem. You have good days and bad days but you get through it."
Q: How did the Y factor into your training?
"When the Y re-opened after the worst of the pandemic, I really seriously started training in December and January and there were a couple of days where I had to do 12 miles on the treadmill. The Y was a place where I could always do that. I can use the weights and machines all of the stretching equipment, the balls, yoga mats. Everything I need is here."
Q: Your family is synonymous with the Y. What are you your earliest memories here and why is the Y so important to you?
A: "Before I even had a memory, I did the infant swimming lessons here and Tots Basketball. My whole life has revolved around the Y and I think that comes from my parents. Growing up, we didn't have travel baseball teams; you played Little League. We didn't have AAU basketball teams when you were 10. You got dropped off at the Y and on weekends often spent the whole day here with your friends. After high school I was a YMCA day-camp counselor for two years. That was one of my most stressful jobs because you were responsible for all of these 9- and 10-year-old kids but I loved it too. I re-joined the Y after graduating from college and living in Philadelphia and it was like I never left. To this day, it is almost like a second home."