Volunteer
YMCA Volunteers Are Heroes among Us
There is no other volunteer organization quite like the Y. That's because in 10,000 communities across the nation, we have the presence and partnerships to not just promise, but to deliver, lasting personal and social change.
Each of our volunteers helps deliver the benefits of good health, strong connections, greater self-confidence and a sense of security to all who seek it.
As the nation's leading nonprofit for youth development, healthy living and social responsibility, the Y provides kids, adults, families and communities with vital support and opportunities to learn, grow and thrive.
We work tirelessly every day to nurture the potential of kids, improve the nation's health and well-being, and give back and support our neighbors.
YMCA Volunteer Opportunities:
Sports Referees/Coaches
Annual Support Campaign
Tour Guides
Membership
Childcare
Greeters
Aquatics
The YMCA believes that people enrich their own lives when they enrich the lives of others. All YMCA endeavors involve a partnership of volunteers and staff. From giving a tour of our building to helping in childcare, volunteers are an integral and essential part of our very being.
Kovel Award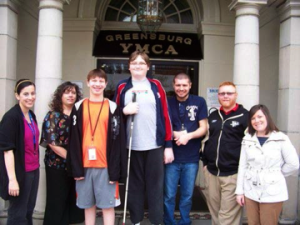 NHS Human Services presented us with the Kovel Award for making a difference in the community through endless investment, dedication and devotion to children and adolescents. Our partnership represents the Greensburg Y's commitment to help students learn and grow in a workplace environment.
FROM VOLUNTEER TALIA:
I just wanted to thank you for allowing me to intern at the Greensburg YMCA to fulfill part of my dietetic internship requirements. Along with learning about the YMCA and building upon my knowledge and skills, I enjoyed my time there and felt very welcomed by all of the staff I interacted with.
Do something good…..become a volunteer!
Contact Ashlee at: 724-834-1260 ext. 103 arose@westmorelandca.org