Latest News
News Feed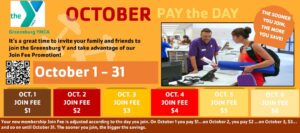 Take advantage of our great Membership promo for October. Join Oct. 1 and you only pay a $1 Join Fee, join Oct. 2, and it is $2 and so on…the earlier you join the more you save!

Help Shape Our Future
Community Meeting
We ask our neighbors and members to join in the conversation as we discuss ways to shape our YMCA and our future. During these two public sessions, the Y invites anyone within the community to share their voice on current local need and how to better provide new ways to service the area.
Free and Open to the Public – No Membership Required
February 17, 5:30 pm – 6:30 pm
February 24, 9:30 am – 10:30 am
RSVP is Required
All community members are welcome to participate, no YMCA membership needed. RSPV is REQUIRED to save your spot for either day. Please complete the form below:
We Want to Hear From You!
Share your thoughts with us! Take our Community Needs Assessment Survey to have a voice in our future and how we are doing.
Take the survey here.

You'll fall in LOVE with the Y for your heart health!
February is National Heart Month, and here at the Greensburg Y we are celebrating by teaching you how to show your heart some love. We're offering an update to our Aquatic Group Exercise classes and a special Heart Health Info Session for this month.
Heart Health Info Session
Thursday February 17th, 6:00pm
Join us as we discuss how your heart works, risk factors you should be aware of at any age, and how to take your heart health seriously. Andrea, the director of Mended Hearts will be here for a presentation.
We will follow this info session up with a 25 minute cardio workout with our staff trainer, Jessica. Please come dressed appropriately for active exercise if you plan on staying for the workout portion.
FREE for all – Membership not required
Heart Health Aquatic Group Exercise
Mondays, Wednesdays, and Fridays in February
For Heart Health Month our Aquatic Group Ex classes will all highlight cardiovascular health. Join us Wednesdays for a focused cardio class and Mondays and Fridays for resistance and cardio specifically for seniors.
+Pool is required
For more info, please visit the Welcome Center or contact INFO@GREENSBURGYMCA.ORG or call 724.834.0150.