Our Mission
To put Christian principles into practice through programs that build a healthy spirit, mind and body for all.
Our Focus
Our areas of focus include Youth Development, Healthy Living, and Social Responsibility. We strive to develop youth through our program departments including aquatics, child development, gymnastics, and sports. Our healthy living focuses on educating our members and program participants of the importance of healthy lifestyle choices. Lastly, but equally important, is our focus on social responsibility and impact. We have been impacting the Greensburg Community for over 155 years and will continue to do so through our mission work.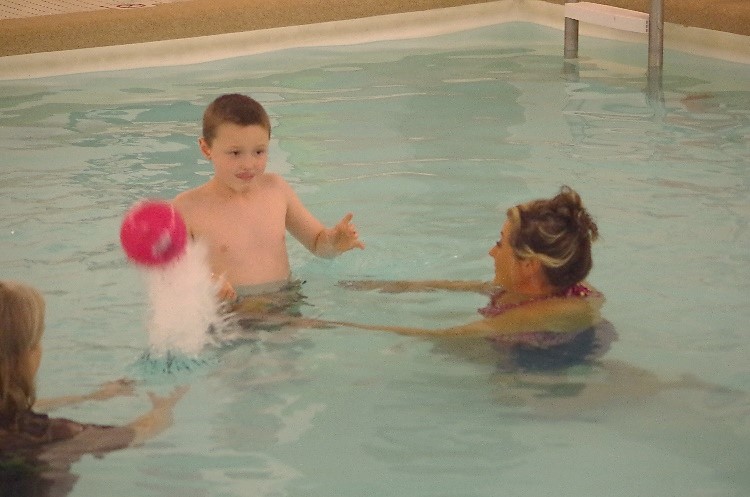 MADDOX
I became a member a little over three year ago. We were looking for private swim lessons for my autistic son, Maddox. We travel all the way from Monessen. Being autistic, my son loves water. But, I was concerned for his safety, therefore, I wanted him to learn how to swim for my peace of mind. I find it beneficial that Maddox comes swimming here at the Greensburg Y every Wednesday. Ms. Kris and her staff are so wonderful with him and understanding. Ms. Kris has gotten to know Maddox well, and I believe that she has a true calling for children and wanting to help on a personable level. Even if a program became available closer to the house, I would still travel to attend our Wednesday sessions because of the relationship that has evolved with this location and how the staff goes above and beyond. I would tell people about the Y that you will not find a place that is more friendly, understanding, personable, and cares about the successes.  I have never had not one bad experience, this place goes above and beyond their call of duty. Again, I wanted you to know that Ms. Kris is an amazing instructor that is passionate about the work that she does, I don't feel the mindset this is just a job, this woman cares genuinely about her students successes and progress and goes above and beyond, I feel that she feels rewarded when her students succeed and puts everything she has into the students learning. You can't find that kind of person or teacher anywhere; she is a true gem!  Ms. Kris always finds a way to teach and adapt to the students' learning style.
Amanda, Maddox's Mother
Monessen, PA
My Y Story – Terri
Oct. 13, 2023
Don't underestimate the value of simple exercise. Three years ago I was diagnosed with osteoporosis. Instead of taking a prescription medication, I chose to use exercise, yoga and weights to increase bone density. Today my bone density numbers have improved to such an extent that I no longer carry this diagnosis. My doctor says to keep doing whatever I am doing; I credit the Y programs for the improvement.
My Y Story – David
August 20,, 2023
I've been a member of the Greensburg YMCA for just over 3 years, and the experience has been transformative. The staff are friendly, professional and helpful.I utilize the weight room, the cybex room, the elipticals and participate in group exercise classes with amazing people! I say if you haven't got a great workout at the Greensburg YMCA its only because you haven't come to the Greensburg YMCA. I highly recommend it!
My Y Story – Donna
November 19, 2021
Donna was diagnosed with Lyme disease three years ago, and it greatly affected her left knee. She was eventually able to treat the pain with anti-inflammatory drugs, but she still lacked balance and strength. After coming across an advertisement for the YMCA in the local newspaper, Donna decided to try a Happy Hinges class. She had great results, and last year, while on vacation with her husband in Colorado, she hiked for three days with no problems. She credits this success to Happy Hinges. "I can't believe what it has done to increase my strength, balance and stamina." 
My Y Story – Greg
September 21, 2021
In early January 2021, I found myself wondering if I'd ever walk again. On this chilly January day, my right foot lay burning and unmovable for good reason … falling ladders and concrete don't mesh very well. Also, at this time, I didn't know anything about the Greensburg YMCA nor how its amenities and passionate staff would help me someday recover from the injuries I sustained that dreadful January day.
Still, through my story, I hope you'll learn how great the Greensburg YMCA is and how beneficial it is to have such a fantastic facility in the Westmoreland County community.
The dark days following my January accident were numerous. I recall wanting to rest my mind from the pain that infiltrated it, yet sleeping for more than 30 minutes at a time was of tremendous difficulty. There was simply no way to get comfortable, as the pain was just too darn intense.
Regardless, I restlessly clung to hope that the two surgeries my Orthopedic Surgeon performed would provide normal and full mobility once again. However, I had to be realistic that it would be quite a challenge to walk normally ever again, let alone play golf as I originally had hoped would be possible within six months of my injury. After all, I knew my surgeon affixed eight screws and a plate into my shattered right heel and two screws into my fractured left tibia.
The idea behind metal screws and a plate in my foot and leg where all my body weight resides had me questioning my hopes. Meanwhile, the excruciating pain I felt when my surgical sites touched even the softest surfaces provided little doubt that I was in a significant uphill battle.
No matter, as I so often do, I turned to research to find sources of information to help me win the battle, still entirely unaware of the Greensburg YMCA. Fortunately, Facebook's "Broken Heel/Calcaneus Support Group" proved to be a precious resource. One of the group's members suggested water therapy as a key to recovery. She explained how gently moving your feet and legs while floating in a pool with water weights would prove highly beneficial. The problem being, I was in southwestern Pennsylvania in the middle of winter … pools weren't open anywhere that I knew of.
But, not letting this deter me, I attempted to locate an indoor pool when my friend and former colleague, Ray, mentioned the Greensburg YMCA as a possible facility. Ray suggested how helpful swim therapy at the YMCA was for him with the various back issues he's dealt with over the years, even detailing how he's witnessed the YMCA staff assisting many physically disabled people to recover in their pool area. To admit I was excited to learn of the YMCA
would be an understatement. Yet, I wondered if they'd accept or even have room for me, considering the COVID-19 pandemic sweeping the nation and the fact that it's a members-only facility.
Besides, I couldn't move without walking orthotics and StrongArm Comfort Canes or crutches. In fact, doing so was extremely challenging with two broken lower extremities, if not nearly impossible along uneven surfaces, so the thoughts of how I was going to traverse through snowy and icy downtown Greensburg into the pool of the YMCA raced through my mind.
Fortunately, a phone call to Aquatics Director Kris Peters proved to be the start of a three-month-long journey that would immediately change the course of my recovery. First, Kris graciously agreed to allow me into the facility, explaining that she has a background in physical therapy and that water therapy would prove as highly beneficial as I discovered it could be through Facebook. Kris then explained that getting into the swimming area of the facility would be a challenge under my circumstances and theirs (COVID-induced) but that she would undoubtedly make accommodations to ensure I could safely enter and exit the pool. To do so, Kris asked her colleague Shawn Rause to assist me into the building from the side entrance along East Pittsburgh Street, through the men's locker room, down the chair lift or steps, and onto a bench near the pool that they prepared for me to sit on to take off my orthotics before I'd enter the water. Kris and Sean even laid out safety rugs for me to limp along so I wouldn't slip on the wet pool deck. Finally, Sean would help me into the water, and Kris would command many of my every move for the next six weeks while I learned to use my foot and leg again.
After six weeks of water therapy, I advanced to full use of crutches without support. Yet, Kris still accommodated me to park in the employee lot as close to the facility as possible so that she and Sean could be there to assist me on a now as-needed basis. To say I wasn't overwhelmed with gratitude at the level of care these two beautiful people showed me, being a stranger to them less than two months ago, would be a major understatement.
Failing to mention the wonderful members who regularly used the swimming pool would also be unfair. Despite my handicap, the members showed me so much love and support. While there are indeed many members I could mention, Jay, the Greensburg Volunteer Firefighter, stands out in my mind. He often went out of his way to assist me with various needs as I got acclimated to the YMCA.
Needless to say, after three months of water therapy and support from so many exceptional individuals, I was able to walk out of the Y without assistance into the life I knew before that dreadful January day in 2021.
So now, in tennis shoes and doing all my normal activities once again, including golf, I write this letter noting that not only did the water therapy at the YMCA prove as beneficial as my
Facebook friend indicated it might be, but it also proved life-changing for me. My perspective on the goodness of human beings, even when total strangers, was forever changed through my exposure to the Greensburg YMCA.
I witnessed so many caring people who felt they were only doing their job give of themselves to help me; a once physically disabled and mentally weak individual become mobile, strong, and confident, so I now realize that even in the face of a pandemic, how wonderful and caring people can be.
The Greensburg YMCA and its caring staff stand above the fold to make such realities and life-changing experiences possible.
So I leave this letter asking myself if something in the water over there at the Greensburg Y makes this true?
With much love,
Greg
Tell us YOUR Y STORY!
By submitting this form you have given the Greensburg YMCA the right to use your story in publications, website, etc..