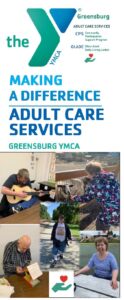 Thank you for your interest in our Adult Care Services (ACS). Please click on the brochure to download a PDF file that can be printed or is available at our Welcome Center.

The Greensburg YMCA Adult Care Services (ACS) is a day program for adults with intellectual development disabilities between the ages of 18 and 59. The program's objectives include training to promote freedom of choice, independent living skills, community integration, personal and public safety awareness and leisure skills. The ACS has been licensed through the Department of Public Welfare, Office of Developmental Programs since 1975.
Westmoreland County IDD Awareness
The Intellectual and Developmental Disabilities (IDD) Awareness Committee – a group initiated in 2011 comprised of advocates from many corners of Westmoreland County including – but not limited to – Program Specialists, Supports Coordinators, provider representatives, family members, and community volunteers.