DROWNING PREVENTION CLINIC
Friday, May 12, 6-7:30 p.m.
Learn how to help prevent drownings.
Samaritan CPR will be demonstrated.
Co-sponsored by the
U.S. Army Corps of Engineers
Instructors:
Local lifeguards
Trainers from local organizations
The Greensburg VFD Rescue Team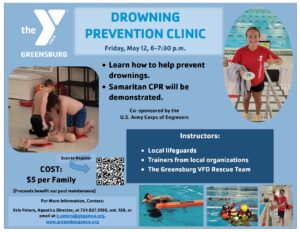 For More Information, Contact:
Kris Peters, Aquatics Director, at 724.837.0150, ext. 139, or email at [email protected].