Aquatics

New and great things are happening in the Aquatics department at the Greensburg YMCA. Aquatic group exercise is now included in your membership. Members can expand their fitness spectrum with several options in the aquatic setting. Our main pool offers 6 lanes that can be used by our members, swim students, and Greensburg YMCA Swim Teams. Participants of all ages can enjoy aquatics in the warm water pool with our newly renovated environment.
For questions about the Aquatic Department, please contact the Aquatics Director, Kris Peters, at k.peters@gbgymca.org or (724) 834-0150 Ext. 139.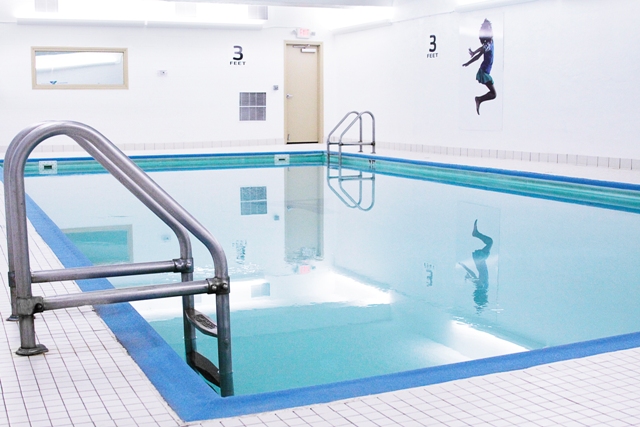 The Greensburg YMCA pool area is a busy place, we offer exercise classes, swim lessons, adult and youth swim teams. The warm pool is just right for those aching bones and sore joints with our Happy Hinges and other aquatic group exercise classes. The children and adults learning to swim find this pool soothing to their needs. The main pool is great for lap swimming and instructing the lessons for the more advanced and water exercise classes for the active members. All aquatic group exercise classes are included in the YMCA membership. With three pools of opportunity at our Y, swim lessons, aquatic group exercise, and swim team we are energized for the next year of opportunity here at the Greensburg Y.
For questions about the Aquatic Department, please contact the Aquatics Director, Kris Peters, at k.peters@gbgymca.org or (724) 834-0150 Ext. 139.
Special Rec Swim and Gym:
This program provides the opportunity for training in the water and in the gym. It is open for those ages 8 and older who wish to better their skill, exercise, and socialize with those around them. Sports and Swimming will focus on areas as it pertains to the Special Olympic Calendar. Sports include Aquatics, Bocce, Bowling, Golf, Basketball, Track and Field and more!
This program starts the first week of October and runs through the third week of May.
WEDNESDAYS (DATES TO BE DETERMINED)
TIME TBD: POOL
TIME TBD: GYM
Cost: $5 per visit or buy a $20 punch card good for 4 visits.
All Participants must have a CURRENT Special Olympic Medical on file, along with a Greensburg Y program waiver on file.
For Westmoreland County Special Olympics Information go online to http://www.specialolympicspa.org/
For questions Special Rec "Gym and Swim", please contact the Aquatics Director, Kris Peters, at k.peters@gbgymca.org or (724) 834-0150 Ext. 139.
Lifeguard Certification Course/Lifeguard Re-Certification Course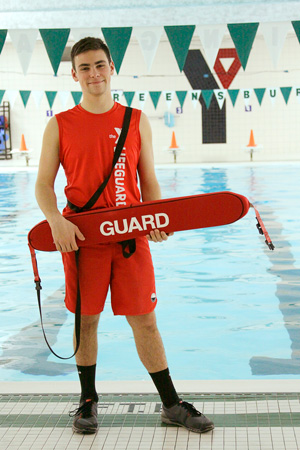 Must be 15 years of age or older. All Classes are capped at 10 students.
We periodically offer the Red Cross Blended Learning Courses, which combines book work which will be assigned at home combined with lecture, demonstrations, practices, and testing preformed in house.
This style of class will provide you with:
A two-year certification that includes Lifeguarding, First Aid, CPR and AED
Free digital skills refreshers
Consistent delivery of curriculum to all participants
Core concepts focus reinforced by instructor and skills practice
Final Lifeguarding written exam and in-water skills testing completed at facility
First Aid/CPR/AED written exam completed online
Certifications Upon successful completion of the Lifeguarding course, participants receive an American Red Cross certificate for Lifeguarding/First Aid/CPR/AED or Shallow Water Lifeguarding (up to 5 feet)/First Aid/CPR/AED.
To successfully complete the Lifeguarding Blended Learning course, the participant must:
Attend and participate in all class sessions.
Demonstrate completion of all eLearning (online) lessons.
Demonstrate competency in all required skills and activities.
Demonstrate competency in all required final rescue skill scenarios.
Complete two written exams, correctly answering at least 80 percent of the questions in each exam:
• CPR/AED for the Professional and First Aid
• Lifeguarding
FINANCIAL ASSISTANCE
The Greensburg YMCA strives to never turn any child away due to the families inability to pay for programming. With that in mind we will accept two forms of assistance in defraying the costs of camp. One way is through the YMCA Annual Support Campaign. The YMCA is able to grant scholarships to families in need due to the generosity of local businesses and individuals who donate monies to the campaign. We encourage those who may not be able to afford camp services on their own to complete a Financial Assistance Application and submit it to the Welcome Center of the YMCA. Please allow up to four weeks for processing. Additionally both Adventure Camp and Sports Camp accept payment from Child Care Information Services (CCIS). Families should contact CCIS of Westmoreland County to inquire if they are qualified (724-836-4580).
Volunteer Information
Volunteers are the only human beings on the face of the earth who reflect this nation's compassion, unselfish caring, patience, and just plain love for one another. — Erma Bombeck
Our Agency benefits greatly from the many skills, talents, time and effort provided by its volunteers. We appreciate this help very much, and look forward to working with you towards the common goal of putting Christian principles into practice through programs that build a healthy spirit, mind and body. Please fill out the information below to assist us in tracking your volunteer time and contributions, and also to assist us in keeping in touch with you regarding important events.