Gymnastics Lessons
FROM THE GYMNASTICS DEPARTMENT
We are extremely fortunate to have a separate facility for gymnastics, allowing us to keep equipment set up year round. Our coaches bring tremendous knowledge and expertise to our gymnastic program here at the YMCA. Please review the descriptions for our youth lessons, private lessons and gym team.
Scroll below for lesson descriptions.
For more information email: info@gbgymca.org

Gymnastics is located at: 308 North Pennsylvania Avenue, Greensburg, PA 15601
All classes are COED.
Parent-Tot
Ages: 18 months – 3 years
Class Length: 60 Minutes
Description: Coaches and parents will introduce new concepts that help to develop fine and gross motor skills. This class also provides an opportunity to practice listening and following directions, interacting with other adults and children, and learning to take turns.
Primary Skills: Stretching, hanging, balancing, bear crawls, climbing, jumping, and being upside down.
Preschool
Ages: 3-5
Class Length: 60 Minutes
Description: Coaches will follow a developmentally appropriate curriculum that focuses on body movement, awareness, and control and introduces basic gymnastic skills. Coaches will also introduce key concepts such as taking turns, sharing, listening, and following directions.
Primary Skills: Stretching (VAULT) running and jumping (BARS) gripping the bar and swinging (BEAM) getting onto the beam and basic walks (FLOOR) forward rolls, bunny hops, and levers
Beginner
Ages: 6 and Up
Class Length: 60 Minutes
Description: Coaches will teach basic gymnastics skills on all 4 gymnastics apparatuses
Primary Skills: Stretching (VAULT) hurdling, springboard jumping, and forward roll entry (BARS) chin-up pullover and casts (BEAM) basic walks, positions, and jumps and levers (FLOOR) basic jumps, backward rolls, handstands, and cartwheels
Intermediate
Ages: 6 and Up
Class Length: 60 Minutes
Description: This class is for students who have mastered the basic skills taught in our beginner classes.
Primary Skills: Stretching (VAULT) handstand flatback (BARS) back hip circles, glides, and squat ons (BEAM) handstands, basic jumps, and dismounts (FLOOR) round-offs, front and back limbers, front and back walkovers
Tumbling
Ages: 6 and Up
Class Length: 60 Minutes
Description: This class is for children who have mastered a cartwheel, handstand, and bridge, and who are ready to focus on tumbling. *This class requires mastery of the cartwheel and handstand*
Primary Skills: Dive forward roll, round-off, front and back handsprings, and connecting tumbling skills (round-off back handspring)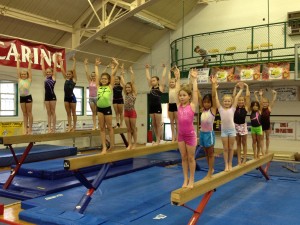 6 WEEK SESSION PRICING FOR CLASSES ABOVE:
Member
Non-Member
Sessions
6 Week (1 hour class)
$100
$200
Spring, Fall, Winter
5 Week (1 hour class)
$80
$160
Summer
Sibling Discount
2nd Child (10%)
$90.00
$180.00
3rd Child (25%)
$75.00
$150.00
Our next session will begin June 14. It is a 5 week session. Registration is May 24-June 10.
Summer 1 Session Fees: Member: $80; Non-member: $160
Private Gymnastics Lessons
Due to staffing shortages, private gymnastic lessons are on a very limited basis and may not be available.
Price:
One Hour Session: Member $60, Future Member $120;
One Hour Session, 4 Lesson Bundle: Member $200 Future Member $400
30 Minute Session: Member $30, Future Member $60
30 Minute Session, 4 Lesson Bundle: Member $100, Future Member $200
To schedule Private Gymnastic Lessons, contact Amy White at a.white@gbgymca.org or complete form HERE.
FINANCIAL ASSISTANCE
The Greensburg YMCA strives to never turn any child away due to the families inability to pay for programming. With that in mind we will accept two forms of assistance in defraying the costs of camp. One way is through the YMCA Annual Support Campaign. The YMCA is able to grant scholarships to families in need due to the generosity of local businesses and individuals who donate monies to the campaign. We encourage those who may not be able to afford camp services on their own to complete a Financial Assistance Application and submit it to the Welcome Center of the YMCA. Please allow up to four weeks for processing. Additionally both Adventure Camp and Sports Camp accept payment from Child Care Information Services (CCIS). Families should contact CCIS of Westmoreland County to inquire if they are qualified (724-836-4580).