October Pay the Day Promotion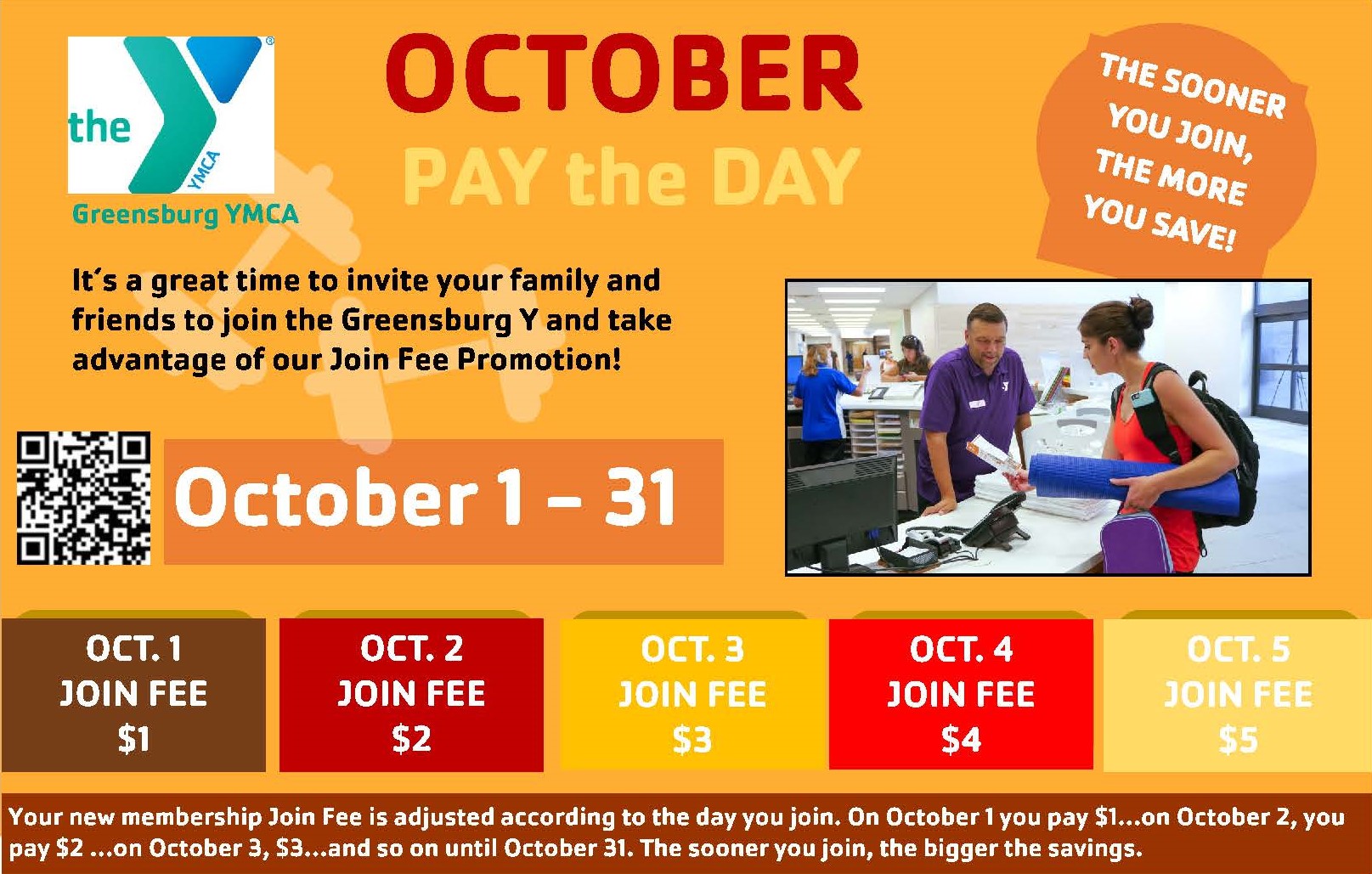 DISCOVER THE MANY BENEFITS OF A GREENSBURG Y MEMBERSHIP:
As a non-profit, charitable, and volunteer led organization, we are much more than a fitness facility. We are a cause-driven organization dedicated to Youth Development, Healthy Living, and Social Responsibility. We believe that our members are family and as such, we welcome you with a smile, encourage you when the climb gets tough, and celebrate your milestones with you.
Please click here to view our facility amenities. We offer quality programs that help youth succeed, adults to achieve fitness goals, families to bond, and seniors to live high quality lives.
All are welcome at the Greensburg Y. We believe in the policy that no one should be turned away based on an inability to pay.
We encourage you to peruse our website and discover the many facets of our Y; then stop in for a tour. We would love to show you around, talk to you about your fitness goals, and let you know about the wonderful things happening at our Y.
TOGETHER, WE CAN BUILD A BETTER US!
If you would like a Membership Representative to contact you, please complete
the contact form at the bottom of this page.
REGULAR MEMBERSHIP BENEFITS:
Unlimited access to cardio room, cybex room, free weight room, racquetball court (call the Welcome Center to reserve at ext. 111), locker rooms;
Gymnasium access during designated times;
Member pricing on programs;
Pool use during "open swim" times. If you wish to have unlimited pool access, you will need to add the +POOL add-on to your membership;
Unlimited group exercise classes:
Free access to Y Wellness 24/7 – the virtual platform that lets you experience the Y anytime, anywhere
Complimentary safety orientation;
Complimentary fitness assessment;
Nationwide Membership at participating YMCAs;
Free WiFi.
* Please see the "Add-On" section below for information on unlimited pool and group exercise options.
REGULAR MEMBERSHIP TYPES:
Youth: Ages 0 to 17. Click for Youth Policy and Age Restrictions.
New Young Adult: Ages 18 – 25.
Adult: Ages 26 – 61.
Senior: Age 62+.
Senior Couple: Age 62+, living in same household, proof required.
One Adult Family: One adult and dependent children, living in same household, proof required.
Two Adult Family: Two adults and dependent children, living in same household, proof required.
Virtual Only: Experience the Y from the comfort of your own home anytime with Y Wellness 24/7. Learn more here.
* The Greensburg Y accepts insurance memberships through Silver and Fit, Active and Fit, Silver Sneakers. Please contact the Welcome Center for eligibility. Insurance and Nationwide members must pay for the +POOL membership if they wish to have this amenity, $10/month via monthly draft.
MEMBERSHIP PRICING
MEMBERSHIP TYPES AND PRICING
MEMBERSHIP TYPE
AGE
JOIN FEE
(Beginning 8/1/21)

MONTHLY RATE
Youth
0 - 17
$20.00
$18.00
NEW
Young Adult
18 - 25
$20.00
$26.00
Adult
26 - 61
$50.00
$40.00
Senior
62+
$50.00
$37.00
NEW
Senior Couple
62+
$50.00
$50.00
NEW
One Adult Family
$50.00
$50.00
Two Adult Family
$50.00
$60.00
Members are responsible for notifying the membership office of any change in membership status in order to qualify for a new membership category (i.e. adult to senior citizen).
All fees are nonrefundable.
There will be a $30.00 Return Fee assessed to any returned credit card or EFT payments.
ADD-ONS
+POOL: $10 additional per month. The +POOL add-on includes unlimited access to the pools and unlimited water group exercise. No reservation is required. (Insurance and Nationwide members must pay for the +POOL membership if they wish to have this amenity, $10/month via monthly draft.)
+POOL members, stay up to date on important updates via Remind: Text @ckfca97 to the number 81010
MONTHLY ADD-ONS
DESCRIPTION
MONTHLY RATE
NEW
+POOL
$10

MEMBERSHIP FORMS AND LINKS: