GYST Swim Team
The Greensburg YMCA pool is home to the Greensburg YMCA Stingrays. Greensburg Y Swim Team (GYST) is a member of the WPYSL and a member of the United States Swimming Association. Swimmers develop all of the competitive strokes while working on their endurance skills. They will gain an understanding of belonging to a team, travel to different Y's and make new friends. It's a GREAT, FUN way to experience competitive swimming. Teams compete in the Y League swimming dual meets throughout the season. Those swimmers who meet qualifying times have the opportunity to travel to the YMCA District, State, and Nationals meets. Our team is led by a passionate elite coaching staff along with enthusiastic volunteers. All Stingray swimmers must be members of the Greensburg YMCA in good standing and pay dues to compete.
We offer practices in our Main Pool at the Greensburg YMCA, 101 South Maple Avenue, Greensburg. All meets are on Saturdays (Fall) or during the week (Summer) and are at the Greensburg YMCA or at away Y's within our region. Practice schedule will be communicated by the coaches.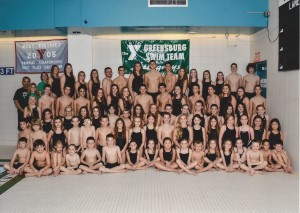 AGE GROUPS
Seniors 15 years and older
Juniors 13 and 14 years
Preps 11 and 12 years
Cadet 9 and 10 years
Novice 8 and under
Age group determined by age as of December 1st for our GYST Fall and Winter Teams and May 1st for our GYST Summer Team.
SUMMER SWIM TEAM INFO
Summer season will begin Monday, May 16th.
Current Practice: Monday – Thursday 5:30 – 7:30 pm
Pre- Bronze: 5:30-6:30 pm
Bronze: 5:30-7:00 pm
Silver and Gold: 5:30-7:30 pm
Summer Break (school is out) Practice:
Monday and Wednesday: 5:30-7:30 pm
Tuesday and Thursday: 9:00-11:00 am
SUMMER SWIM TEAM DUES
$250.00 for the full season. Payment is to be made in one lump sum. You must have a YMCA Membership in order to be on the swim team.
ONLINE REGISTRATION:
Online registration is now available. You may also register in person at the Greensburg YMCA Welcome Center.
MEMBERSHIP: You must be a member in good standing of the Greensburg YMCA in order to participate on the swim team. If you are not a member, you will need to stop in at the Welcome Center to establish your membership. Online registration will not work for non-members.
HIGH SCHOOL SWIMMERS: There is a separate rate for swimmers who are swimming for GYST AND their high school team. You will need to contact Member Services to register. (If your child is NOT swimming on a high school team, they are to register under the "GYST Fall/Winter 2021" registration option.)
PAYMENT OPTIONS: You have the option to make a full payment or two monthly payments for swim team dues. For our two monthly payment registrants: please make sure you "select all" dates when given the option.
SIBLING DISCOUNT: If you have more than one child registering for the swim team, please contact the Aquatics Director, Kris Peters at k.peters@gbgymca.org or 724-834-0150 ext. 139 to have the discount applied.
GYST STAFF AND VOLUNTEERS:
Co-Head Coaches
Kim Graziano
Assistant Coaches
Brandon Busche
Bill Salathe
Jill Schrock
Meet Coordinator
Jill Schrock
Support Our Stingrays President
Brandon Busch
Volunteer Information
Volunteers are the only human beings on the face of the earth who reflect this nation's compassion, unselfish caring, patience, and just plain love for one another. — Erma Bombeck
Our Agency benefits greatly from the many skills, talents, time and effort provided by its volunteers. We appreciate this help very much, and look forward to working with you towards the common goal of putting Christian principles into practice through programs that build a healthy spirit, mind and body. Please fill out the information below to assist us in tracking your volunteer time and contributions, and also to assist us in keeping in touch with you regarding important events.